Nature enthusiasts and wildlife photographers were in for a treat in May 2020 when America's favorite bear, named 399, emerged from hibernation. Despite being 24-years-old, she is active and gave birth to four adorable cubs.
399 is Back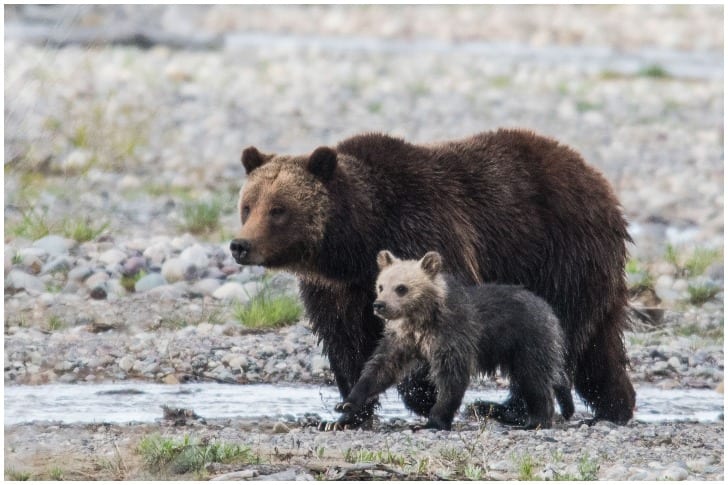 Ryan Dorgan/National Geographic: Grizzly bear with a cub
The grizzly bear or Ursus Arctos was spotted in the spring season for the first time by photographer Thomas Mangelsen. He clicked the endangered animal's pictures in Grand Teton National Park, which is located near Yellowstone. Many animal experts scrutinizing the bear's activities were concerned that she might not survive the winter owing to her age.
After Mangelsen located 399, he got in touch with Dr. Jane Goodall — another ardent follower of the bear — and informed her of his findings. The National Wildlife Federation states that wild grizzly bears can live up to the age of 30 years and rarely reproduce beyond 25.
New Kids on the Block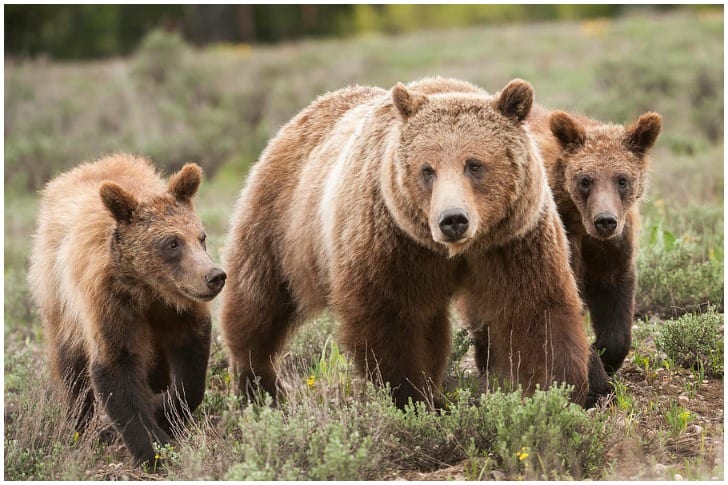 Nearly-extinct Grizzlies in tow
Ever since he delivered the good news, Mangelsen has published numerous photos of the grizzly and her cubs. He noted that Grizzly 399 would soon be viewed by the vast bear watching community.
Many enthusiasts were excited to know that her cubs are growing pretty quickly, as they are visibly bigger than their first-ever appearance. 399 has given onlookers a glimpse of her offsprings several times, which made her a local favorite.
Saving the Grizzlies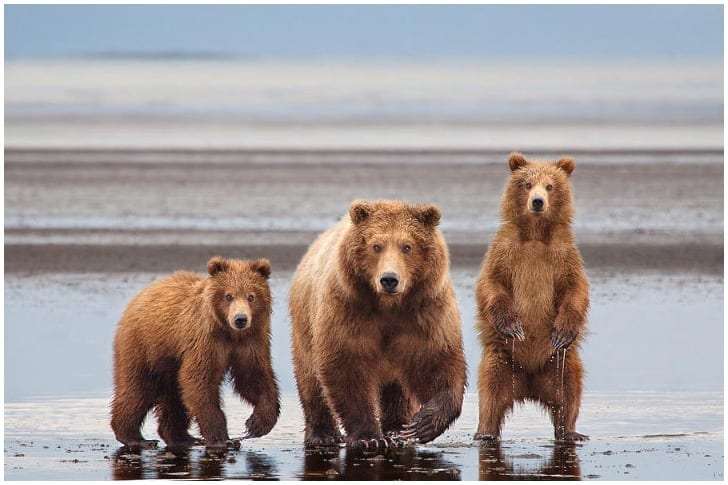 Rare species in danger
In 1975, the Yellowstone National Park's grizzly population was declared as an endangered species, bringing them under the ambit of protection. Over the years, 399 has given birth to at least 22 young ones. Besides, she spends a lot of time nurturing her kids while still being in the public eye. Without a doubt, she is an influential animal that can change people's perception of grizzly bears.
With an amendment in 2017, the grizzly bears outside Yellowstone and Grand Teton were excluded from the endangered species list. Following the order, states became responsible for managing these animals, and they decided to open the doors for hunters.
In the following year, a movement called 'Shoot'em With A Camera-Not A Gun' grabbed the spotlight. States like Idaho and Wyoming authorized trophy hunting – this decision meant that up to 22 grizzlies could be killed during the hunting season.
Daryl Hunter, another wildlife photographer, mentions that he has met individuals wanting to put up 399's rug on the wall. While she is in Grand Teton for most of the year, during the hibernation period, she moves to the national forest. Since the woodland is not a protected area, hunters could end up making her a target too!